By: Jim Hunter, Payroll Coordinator, exhale

Here at exhale, we try to live healthy balanced lives in and out of the spa + studio. Jim is known around the corporate office for bringing delicious and nutritious lunches to work every day. We stepped over to his desk to get some tips on how to pack healthy lunches for the office.

Jim's Healthy Lunch Tips:
I never buy in bulk because I cook for one (myself) and I want my food to be as fresh as possible, so I shop at Whole Foods twice a week.

On the weekends I'll do my "big shop" and load up on protein (organic chicken, salmon, avocados, premium tuna fish), organic veggies (usually broccoli, squash, cauliflower, salad) organic fruit (grapefruit, apples, blueberries, strawberries). I'll stop in for a smaller shop on Wednesdays, and grab a few more veggies and fruit and some snacks to tide me over, i.e. peanut butter (no salt/no sugar), cheeses (Whole Foods cheese section is to die for), baked potato chips, organic almonds, organic cashews. (If I buy my snacks on the weekend they may not be around by Wednesday).

Once in a while (once a month), I'll indulge and eat cookies or ice cream, but I have finally reached a point where when it comes to refined sugar, I can take it or leave it. I never complain about how much my food costs. I try to put the best foods possible in my body as much as possible.

I prepare my lunch every morning.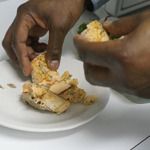 I need to be in the office by 9:00 am and I live 20 minutes from work. I get up at 6:30am to prepare. I cook my poultry or fish in the morning as well as steam my veggies. I love cooking my food every day.

For breakfast, I may have raw meal which is an organic plant based supplement (amazing), boiled eggs (not good for my co-workers, they complain about the smell haha), avocado/strawberries…avocado/blueberries…organic plain oatmeal/almonds…it varies…


Sometimes I treat myself to bacon/eggs as a treat maybe twice per month.

Jim's Favorite Lunch Recipe:
I keep it really simple. I tend to buy my chicken seasoned (more expensive but Whole Foods has good deals sometimes). I bake chicken, fish, and veggies.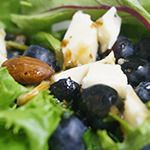 Right now I have 2 favorites
1) Baked salmon fillet, organic butternut squash, and organic steamed broccoli
2) Baked lemon chicken, organic salad, midnight moon gouda cheese, organic blueberries with balsamic vinaigrette

Growing up, I ate mostly fried foods, refined sugar, wheat, and foods high in unhealthy fats. I don't live like that anymore!